Seamless gutters play an essential role in your home's ability to manage rainfall. Not having gutters or having underperforming gutters can lead to rotten wood at overhangs and even undermine your home's foundation. McToolman offers a wide variety of Water Management Systems more commonly known as "gutters".
Seamless aluminum K-style gutters are the most common gutter type installed in the residential market and come in 2 different sizes with a wide variety of colors. McToolman installs all K-style gutters using hidden hangers and screws. (Also available in copper).
Standard Seamless Gutter Systems:
5-inch gutter with 2×3 downspouts
6-inch gutter with 3×4 downspouts
We also offer half round gutter systems and even commercial/industrial sized box gutter systems. Contact us to learn more.
Installing Seamless Gutters
Making seamless gutters are done on-site by rolling a metal sheet through a gutter forming machine. Then the installer secures it to the side of the home in a continuous run using hidden hangers and screws. Seamless gutters can be made to any length.
End caps and corners are then installed and sealed where needed to complete the troth portion of the system. Lastly, downspouts are added to remove water from the gutters.
Gutter Caps For Seamless Gutters
Gutters not only collect and manage water run-off from your roof but in doing so often times collect roof debris, leaves, sticks, etc… which will ultimately hinder performance and in some cases even completely block the flow of water. To help avoid this problem McToolman offers a variety of retro-fit gutter cover systems to keep your gutters free of debris. Our gutter cap systems can be installed on either new or existing gutters in 5-inch and 6-inch K-style gutters along with half round systems.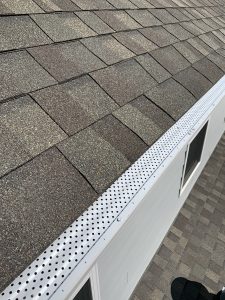 Gutter Cleaning
Over time debris from trees and even the roof shingles will collect in and clog gutters. McToolman will remove the debris which allows water to flow without interruption.