Decks are a great space for entertaining guests, reading a book, catching some rays and so much more. Unfortunately, with age boards can become loose, begin to rot and even become dangerous. McToolman offers a wide variety of deck repair options to prolong the life of your existing space and save you money!
Types of Deck Repair:
Rotted/Damaged Board Replacement
Rotted/Damage Railing Replacement
Stair Repair or Replacement
Loose Railing Repair
Power Wash & Stain
Post Replacement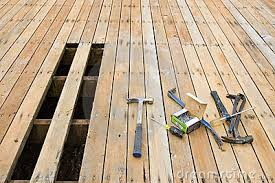 Deck Replacement:
Whether you are replacing an existing deck or starting from scratch, building a new deck is not a simple task. You must choose the size and shape of the deck, location of the stairs, the material it will be made of along with an infinite number of railing styles. Don't worry, McToolman will help you every step of the way, from design to build.
Composite Decks
Synthetic decking won't split, crack or warp and does not need to be stained. Design versatility is a huge advantage with synthetic decking. It comes in a wide variety of colors and can be bent or molded around curves and made into intricate patterns and design. There are an endless number of synthetic railing styles to choose from to compliment the deck boards.
Treated Wood Decks
Wood is a gorgeous and sturdy option. We use pressure treated southern pine for most traditional projects. Upon request we will also use other wood species such as, cedar, teak, redwood and more. One advantage of wood is that you can change the color with new stain. A new stain color can really change the overall look of your deck.
Wood does require regular maintenance such as staining or painting. The amount of sun or shade your home gets will determine how often maintenance is needed.
Covered Porches
Adding a roof over your outdoor space is a great way to enjoy your space in the heat of summer or even in the rain.